Interview with Phyllis C. Borzi
To learn from each other
During the "study visit" of an American Delegation we had the chance to do a detailed interview with Assistant Secretary for the Employee Benefits Security Administration at the U.S. Department of Labor, Phyllis C. Borzi, about similarities and differences between the German and American health care system.

vdek: What impression did you get of the German health care system in the last days? Were there any new aspects you didn't expect?
Phyllis C. Borzi: The German health care system, established in the late 19th century, is historically the first universal health care system in the world. After World War II, in line with the "Universal Declaration of Human Rights" of 1948, other universal health care systems emerged all over Europe: some following the German example; some coming up with new ways to administer and finance health care for their people. Germany is often regarded as one of the countries in the European Union with excellent medical care. A wide range of hospitals, medical practices and institutions guarantees medical care for everybody. With over four million jobs, health care is the largest employment sector in Germany.
It was interesting to learn during our hospital visit that the effect of this system of bargaining with pharmaceutical companies keeps drug prices low, since negotiation over drug prices is something that has been strongly resisted in the United States.
I knew a bit about the history of the German system before my visit but I was surprised to learn that Germany's system is not a public, state-run scheme like those in France and the UK, or many of the other EU countries. Rather, it is financed by its users and German employers. I also knew that the German quasi-public health system sets fixed reimbursement rates for hospitals and extracts price concessions from drug companies. It was interesting to learn during our hospital visit that the effect of this system of bargaining with pharmaceutical companies keeps drug prices low, since negotiation over drug prices is something that has been strongly resisted in the United States.
Like the United States, Germany has a mix of private and quasi-public insurance plans, essentially two separate systems that coexist, with private plans indirectly benefiting from the cost controls of the public system. I was surprised to learn that once an optionally insured person (a high-income earner, self-employed person) opts out of the public system he or she will have no access to the public system's benefits, and it is very rare to switch back in. In the US, people do move back and forth between the two systems. In both countries, high-income earners and those who demand better health care than the standard service can opt for more expensive, private health plans. I understand that in Germany, these profit-driven, private insurers are believed to offer better, more extensive coverage than the regulated, non-profit companies.
Again I was a bit surprised to learn that the statutory healthcare insurance is managed by about 160 insurance funds. Some of these funds are operated on a regional basis (e.g. local sickness insurance funds) or at a national level. These funds accept all members, even if they are not employed.
Every German citizen must belong to a sickness fund, and all funds must provide a standard set of benefits to everyone. It is my understanding that this standard is fairly comprehensive, covering most procedures. This is similar to one of the main goals of the ACA- to provide universal access to healthcare for Americans. The so-called "individual mandate" is intended as a way to allow for universal healthcare coverage while keeping the cost of that care affordable. It is also one of the most controversial requirements under the ACA. Under this ACA provision, everyone must have health insurance covering a broad package of essential health benefits. Coverage can be through an employer, a government program, through a health insurance exchange or through any other insurance program. Anyone without coverage will have to pay a tax penalty.
That's what the ACA is all about - making sure that every American can count on the security of health care when we get sick.
The ACA is widely acknowledged as the most significant piece of health care legislation since the establishment of Medicare and Medicaid almost a half century ago. That's what the ACA is all about- making sure that every American can count on the security of health care when we get sick; that the work and dignity of every person is acknowledged and affirmed, and that no family should be bankrupt because somebody in that family gets sick. It's also true that, despite this law, millions of Americans remain uncovered, in part because of the expansion of state Medicaid coverage required and subsized by the Federal government under the ACA was successfully challenged in the Supreme Court and the Court allowed the states to decide whether or not to expand this important public program. Unfortunately, for political reasons certain states chose not to expand Medicaid coverage under this law. Much more work is needed and hopefully with each passing year we will continue to insure more Americans.
To me, one of the most impressive features of the German health care system is its recognition of the critical importance of long-term care. I was quite interested in learning more about the history and implementation of this recent mandate. As enacted, the Affordable Care Act established a new program to provide long-term care benefits. It was one of the most controversial features of the bill as it was being considered by Congress since the private insurers were very hostile to any government involvement in the program. But ultimately Congress adopted a program that sadly never got off the ground. After the government actuaries spent more than a year trying to develop a workable business model given the statutory requirements, they gave up and Congress ultimately repealed the program. But this is clearly a very important topic that must be addressed soon in the US. I'll be very interested in watching how your program evolves and I hope we may be able to learn some important lessons from your experience.
Similarities and differences
Both the German and US systems have the same goal or mission which is to deliver emergency care for life-threatening illnesses and trauma cases.
vdek: What specific differences to the U.S. health care system did you notice, e.g. regarding the emergency department you visited at the University Hospital?
Phyllis C. Borzi: Most emergency medical services around the world are varied in scope and effectiveness due to the rapid development of medical technology and the enormous amount of resources needed to keep up with that technology, but all are the first point of contact for people needing health care services for non-routine events. Both the German and US systems have the same goal or mission which is to deliver emergency care for life-threatening illnesses and trauma cases.
That being said, I was incredibly impressed with the sense of calm, order, and smoothness of the emergency room of the University of Goethe hospital in Frankfurt. The order was specifically noticeable with the designated areas for "acute care," which has intensive care capabilities, and the different zones for "intermediate care" and observation. There seemed to be a seamless, continuous, and smooth transition of patients to receive care. This has not always been my experience in some emergency rooms in the United States.
Speaking personally, I have experienced multiple visits to the emergency room not just as a patient myself, but also as I accompanied family members and friends. Depending on the time of admittance to the emergency room and the number of individuals waiting for triage or treatment, the situation could sometimes be described as chaotic, with long waits and patients sometimes lying on gurneys in the hallways for hours waiting for admission. To some extent, the overburdened state of some US emergency rooms can be explained by the failure of our US health care system to assure that all individuals have access to primary care physicians on a timely basis thus placing excess burdens on emergency rooms, since uninsured individuals often are forced to look to emergency rooms as the only place to turn to for medical treatment. One of the major goals of the ACA is to be sure that everyone has access to good quality primary and preventive care in a timely fashion, thus reducing the burden on emergency rooms.
But I have also seen very good emergency room care in the United States, particularly in some of our nation's largest and busiest public hospitals.
Since nearly all Germans have health insurance coverage, another thing that struck me was that the patients at the emergency room were being provided with care without inquiring about the ability to pay. In the U.S., this was not always the case.
In 1986, Congress passed the Emergency Treatment and Labor Act (EMTALA) that prohibits a practice commonly known as "patient dumping." The act gives individuals the right to emergency care regardless of their ability to pay. In essence, the federal patient-dumping law entitles you to three things: screening, emergency care and appropriate transfers. A hospital must provide "stabilizing care" for a patient with an emergency medical condition. The hospital must screen for the emergency and provide the care without inquiring about your ability to pay.
Some insurance companies refused to pay for emergency room treatment if the medical personnel concluded that no real emergency existed and the patient was seeking care for an illness or injury that they should have brought to a primary care physician. Fortunately, thanks to the ACA, insurance companies are now required to pay for emergency room care if a "prudent layperson, acting reasonably," would have considered the situation a medical emergency.
Both Germany and the U.S. face similar demographic challenges based on the growth of an aging society. As our population ages, there will be an increasing need for emergency services, and pre-hospital and hospital-based practices will need to be better integrated and more efficient in the future. Based on the health-care presentations, Germany seems to be leading the way in delivering emergency services, especially in the Hesse region. Our two countries have much to learn from each other as we both face the growing demands for more efficient and effective emergency care.
To learn from each other and improve the systems

I think there is a lot to learn from each country
vdek: What could the two countries learn from each other concerning health care systems? Did you find aspects which could help improve the ACA?
Phyllis C. Borzi: The search for solutions has become global in scope, as the United States looks beyond its borders to examine how other industrialized nations provide and finance health care. The challenges currently facing the American health care system certainly are not unique; health care systems around the world are buckling under the pressures of aging populations, exploding medical cost increases, and reliance on expensive high-tech solutions and procedures. Industrialized nations all battle to balance the three shared concerns in modern health care: cost, access, and quality. I think there is a lot to learn from each country especially as the U.S. has moved under a somewhat similar health insurance regime to that of Germany, which has near-universal insurance coverage that is not entirely public.
Two of the key goals of the ACA are expanding access to health coverage and increasing consumer protections through market reforms. As a result of the ACA, all Americans are required to have health insurance or to pay a fine, and insurers have to provide medical coverage, despite pre-existing conditions. The Employee Benefits Security Administration, which I oversee, has worked hard with the White House and other federal agencies to implement the ACA in phases. More than twenty regulations and more than thirty pieces of sub regulatory guidance have been issued to date to help the regulated community understand their rights and responsibilities under the new law. The provisions that have been implemented to date have focused on improving access to coverage, improving the quality of coverage, strengthening participant protections (these provisions are also known as the Market Reform provisions), increasing the disclosures made to individuals, and preventing fraud and abuse.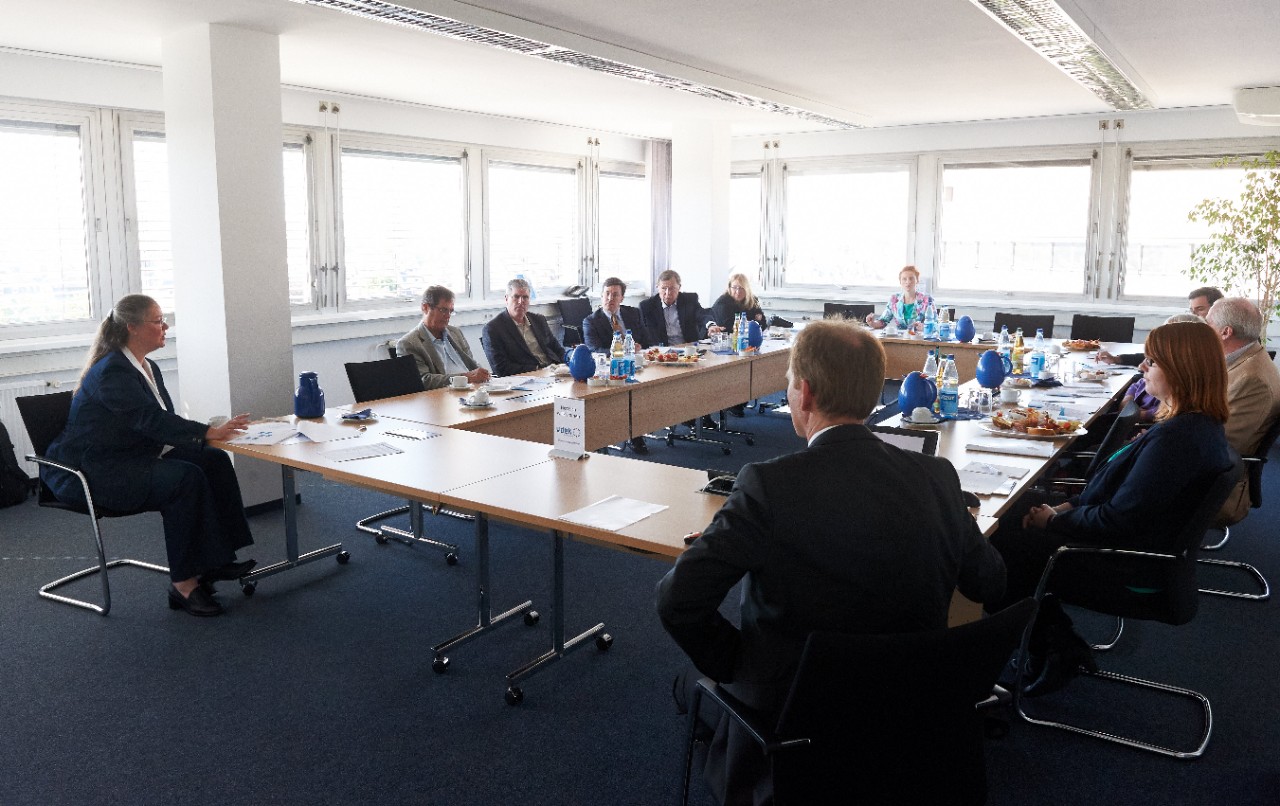 I am very interested in furthering my study on the structure of the German "sickness funds" and how the public system covers the majority of the people. The ACA has the potential to expand coverage to millions of currently uninsured people through the expansion of Medicaid eligibility and the establishment of Health Insurance Marketplaces, but unfortunately not everyone will be covered. Decreasing the number of uninsured is a key goal of the ACA, and my agency is committed to continue to work towards this goal.
In Germany, the people that are not covered have chosen to opt-out and purchase private insurance through the private German market, which looked similar to the U.S. health care system before the ACA was passed. I am glad to say the U.S. is moving in the right direction, moving toward many of the things that have been done in Germany for a very long time: a health insurance system that is compulsory and multi-payer; a public and private partnership and more regulated.
Rising health care costs are one of the most contentious issues and a matter of great concern for policy makers worldwide.
Another area where both countries could learn from each other in the international marketplace is the area of increasing pressures of rising health care costs and finding specific techniques to more effectively cut and contain those costs. Rising health care costs are one of the most contentious issues and a matter of great concern for policy makers worldwide. No one country seems to have a long-term solution on how best to tackle this problem. Rising health care costs have triggered cost-containment measures, and this has led certain specialties within the health-care system to become less financially attractive for physicians due to reimbursement schedules, creating a trend among doctors and nurses to choose better paying specialties, and in the end creating a shortage of primary care physicians. Both countries could learn from each other concerning the problem of a shortage of medical personnel, primarily primary care doctors and nurses. This also affects the rural and less populated areas the most.
I learned from the presentation and the hospital visit that in the German system there is a real negotiation process between the doctors' associations and the sickness funds to agree on price, thereby producing a fee schedule so everyone knows the cost of treatment for a specific procedure. In contrast, in the U.S. there still exists a gray area of covered expenses versus non-covered expenses. In some cases, patients were left to pay bills for care their policy simply didn't cover. Depending on the type of health insurance plan a person may have, they still could face often significant out-of-pocket costs. [Could you explain this?] However, on the state level in the United States various types of experimentation have gone on to try to find a sustainable level of health spending. For example, since 1977 my home state of Maryland has implemented a German-type strategy to control hospital costs by regulating regarding how much state hospitals can charge. The ACA, however, has tried to cut health care costs by a general move toward evidence-based medicine, including the creation of Accountable Care Organizations which take aim at reducing the number of unnecessary procedures, readmission rates, and unnecessary emergency room visits. Like every major piece of legislation -- from Social Security to Medicare -- the law is not perfect and there is a lot of work left to accomplish, but I believe we are on the right track and we will get there.
vdek: Dear Ms. Borzi, we wish you good luck on the realization of the ACA und thank you very much for this interview.
Phyllis C. Borzi: Thank you again for the opportunity to talk to you about the U.S. health care system and to learn about the German system. I believe there is a lot to learn from each other in the future.
The German translation of the interview was published in the ersatzkasse magazin. Hessen - Ausgabe August 2014.